Our Home Awaits...
---
GREAT
B E A R
CHALET
Be at Home in a Grizzly Kingdom
Make our ecologically responsible Chalet your wilderness retreat. Experience the awe & humility of true coexistence. Become a part of & marvel at the wonders of the circle of life.
Live in 'green' luxury along the banks of the Atnarko River, in the heart of Tweedsmuir Provincial Park, with the vividly coloured Rainbow Mountain range to the east and the jagged, glaciated peaks of the Coastal Mountains to the west.
Re-wild your Spirit.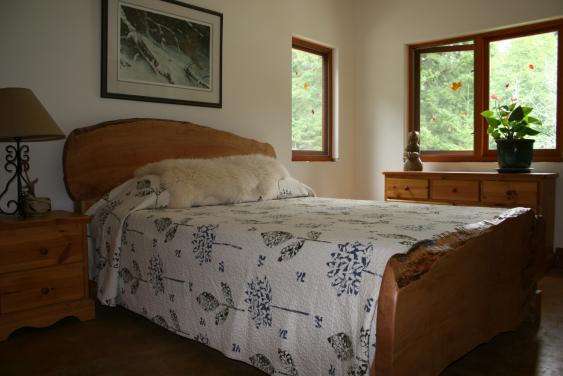 ---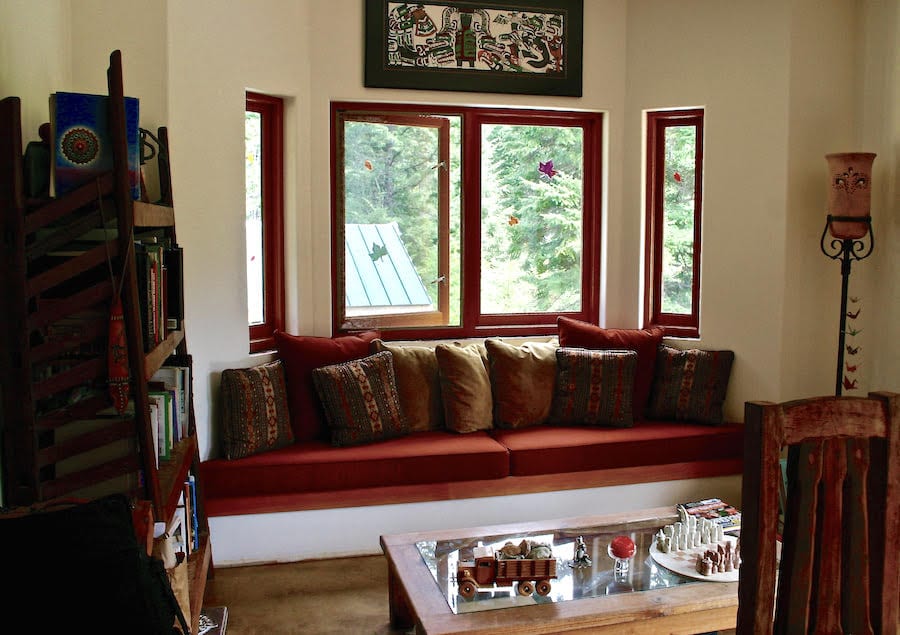 ---
Extraordinary Adventure Awaits You...
---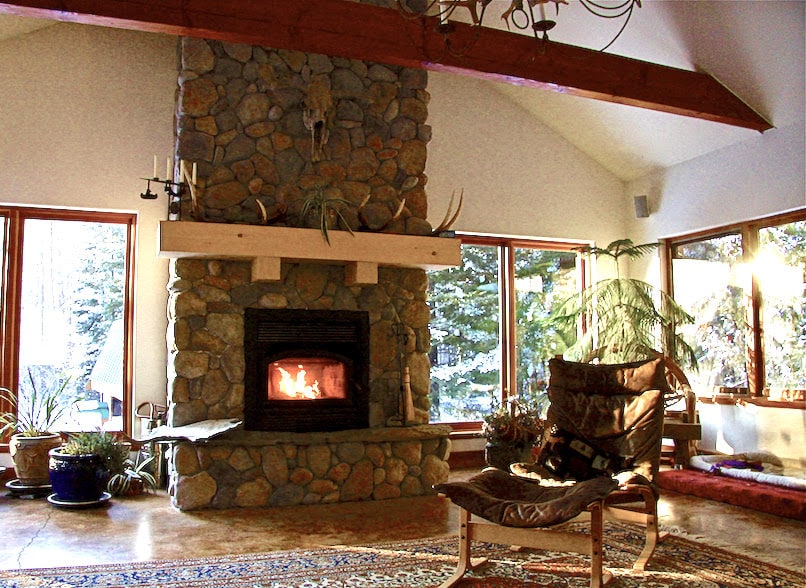 ---
Great Bear Chalet is an off-grid 'green' home.
We offer two (2) private queen bedroom suites each with it's own 3 piece ensuite bath. Our maximum capacity is four (4) people. This guarantees that there is an "exclusivity" to your stay with us.
We can accommodate two separate individuals, two couples or a family of four - if kids are comfortable "bunking up" i.e. sharing a queen size bed and bath.
The Great room, dining room, and expansive deck are all open, 'living' spaces for you to also enjoy.
---

---
We limit our environmental impact in a multitude of ways: 'salvaged' yellow cedar cabinetry, gravity-fed Biosand water filtration, 'bear safe' organic garden, 'bear smart' containment of compost and garbage, a septic field that fertilizes native species, nurturing the bear meadow, while the Chalet itself was designed & built to operate on less than 7 kWh of power a day (the average North American grid home consumes 30-40 kWh).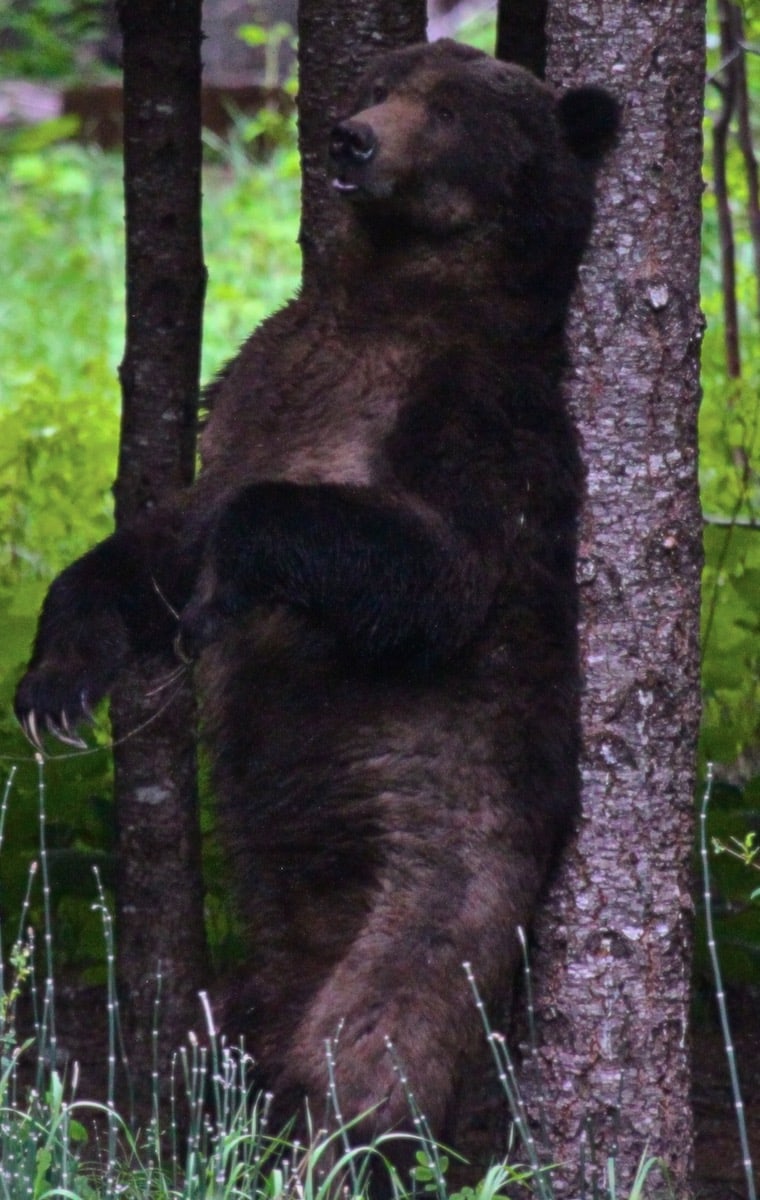 ---
Comfortable by design, our goal was to create a small footprint/low impact wilderness retreat to compliment this beautiful land.
---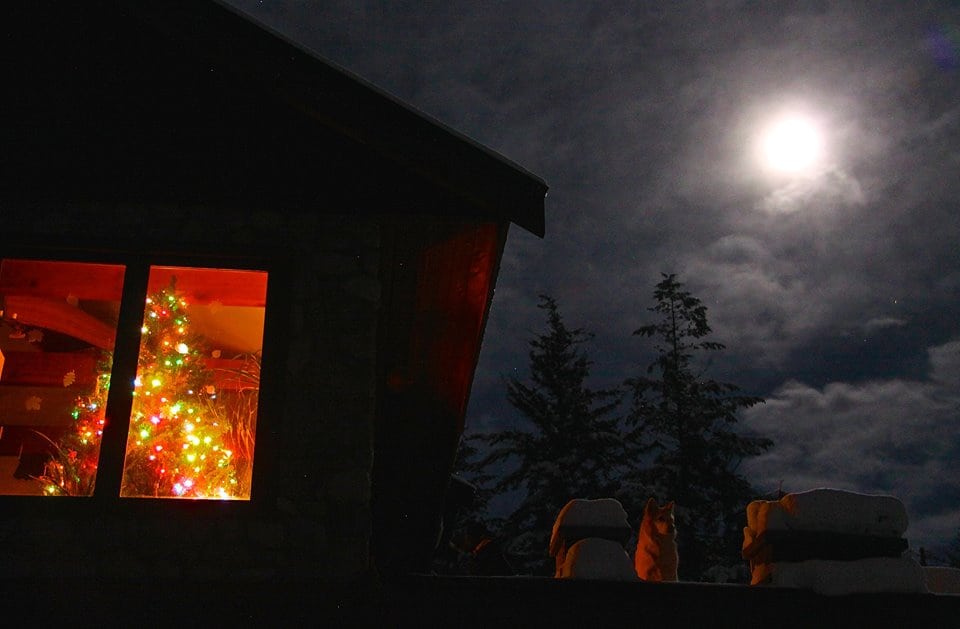 ---
For health reasons & wilderness fire prevention, we are proud to offer a smoke free environment both inside & out.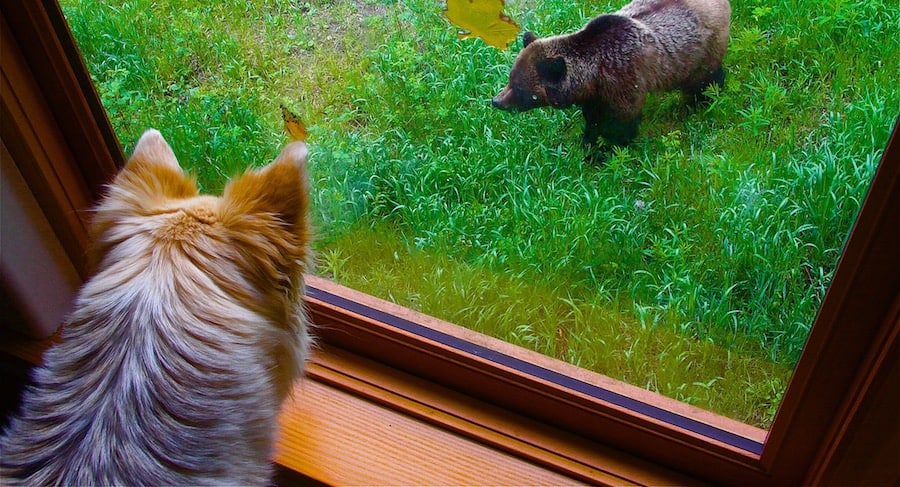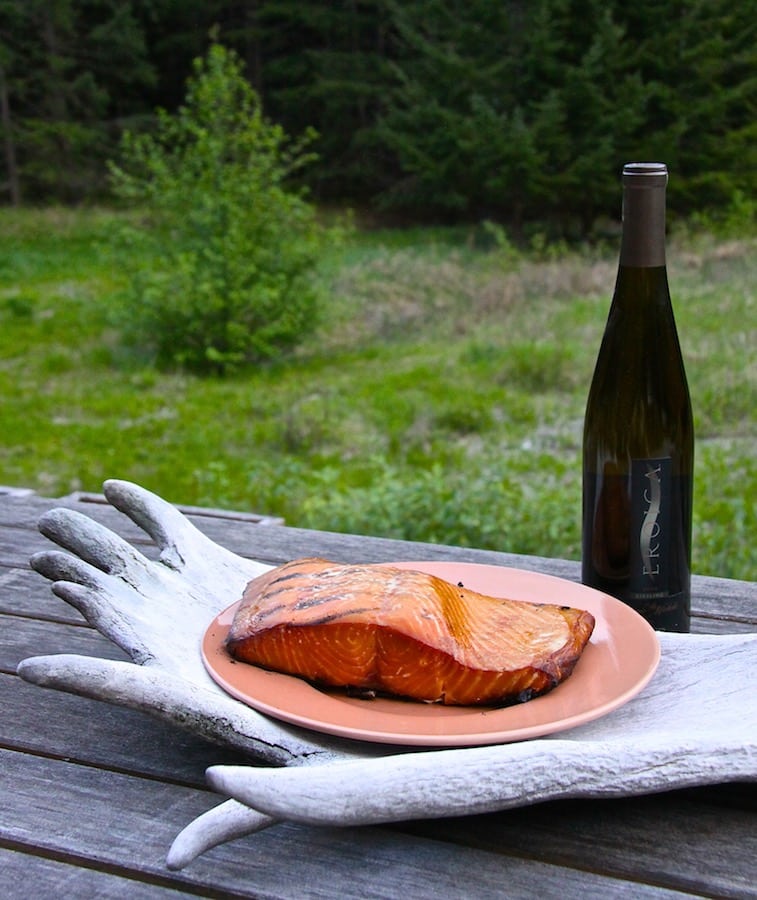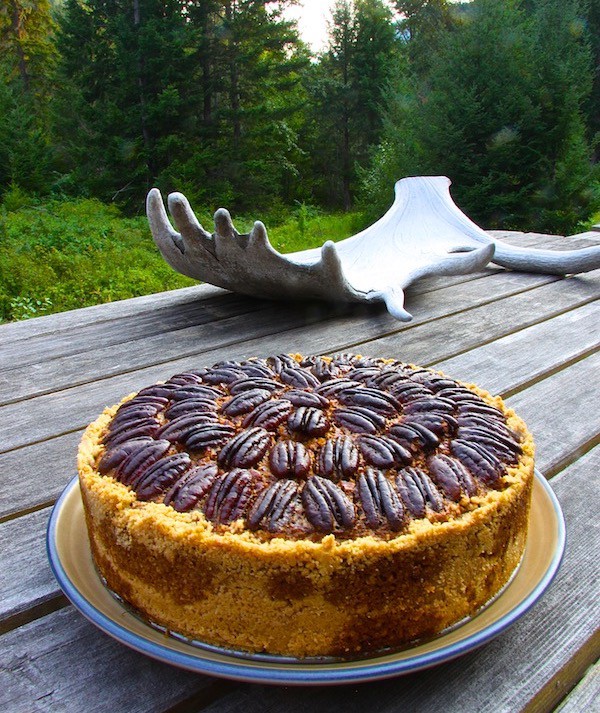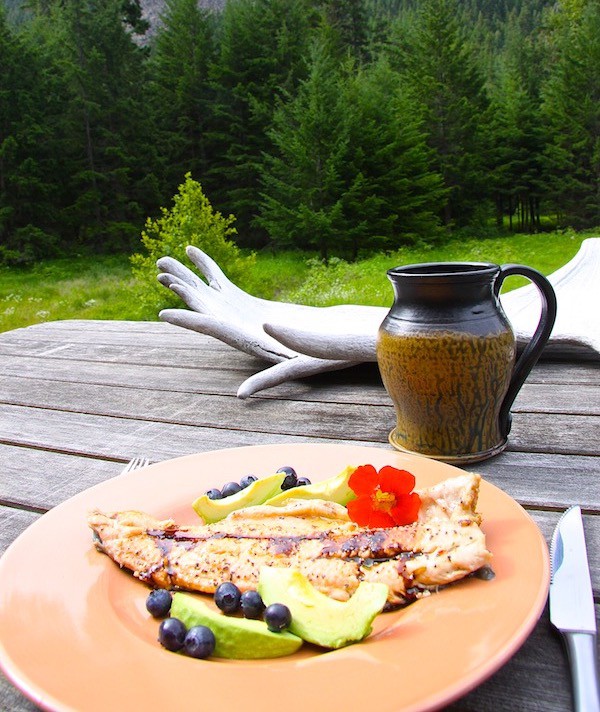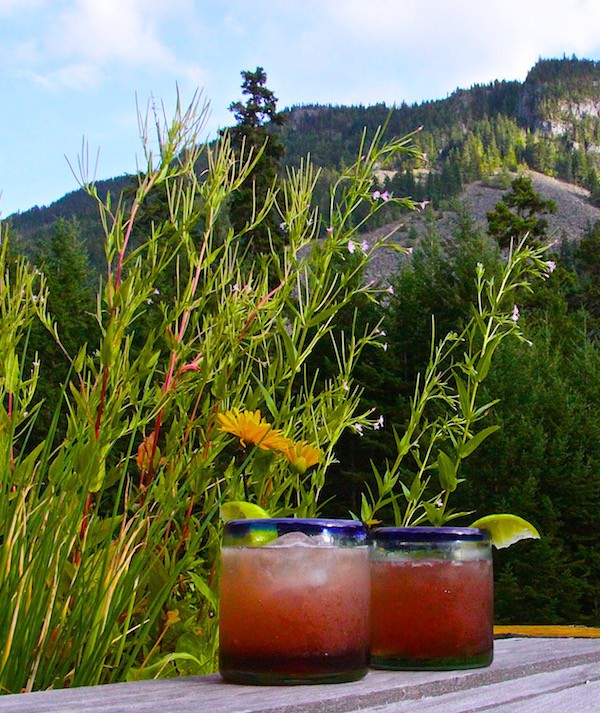 'We Are What We Eat.'
We ensure that our creative joy & the finest foods are combined in each meal . Gourmet meals are a prepared fresh, using local ingredients in combination with organic vegetables and herbs from our 'Bear Smart' garden. The dining room table is always a lively "command central".
Menu favourites include: 
The Chalet coffee - Oso Negro espresso + "secrets"
Bear smart' blueberry/almond flour pancakes & Canadian maple syrup
BBQ'd organic "beer can" chicken with roasted veggie medley
Wild Spring salmon BBQ'd to perfection
Pesto, pesto, pesto pasta - your choice, traditional fresh basil or 'wild' stinging nettle
Did we mention dessert?
Chalet specialties Include: Deep dish Pecan Pie, "Best-ever" Chocolate Mousse, Lemon Cheesecake w/ Blueberry Amaretto sauce, Lavender Creme Brulee to mention a few. We're all about happy endings..

---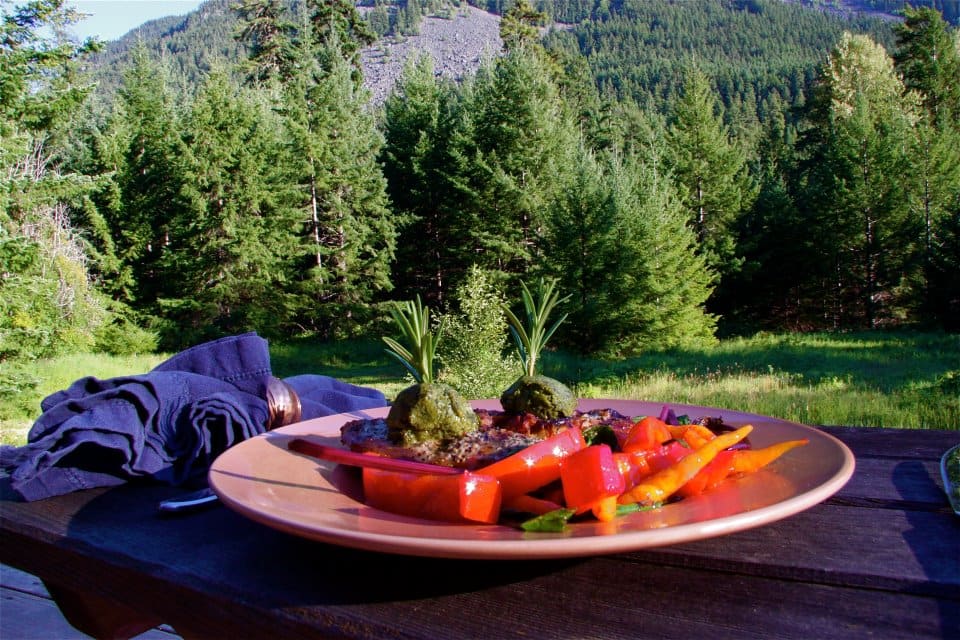 Diet Restrictions?
We accommodate food preferences/allergies.
Please let us know prior to your arrival.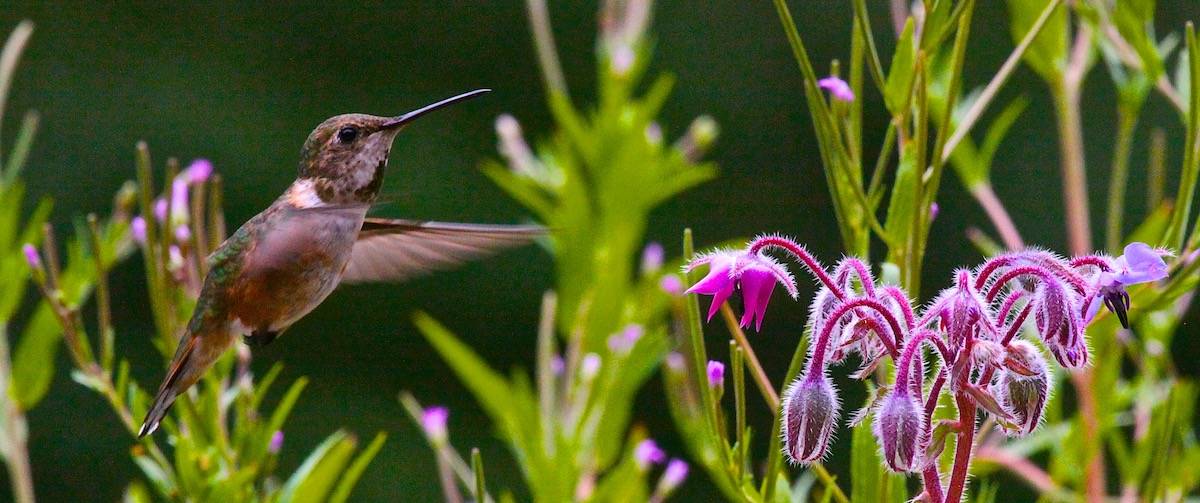 Open ~ Year Round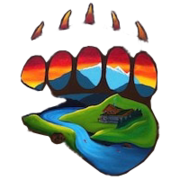 For Special Occasions
---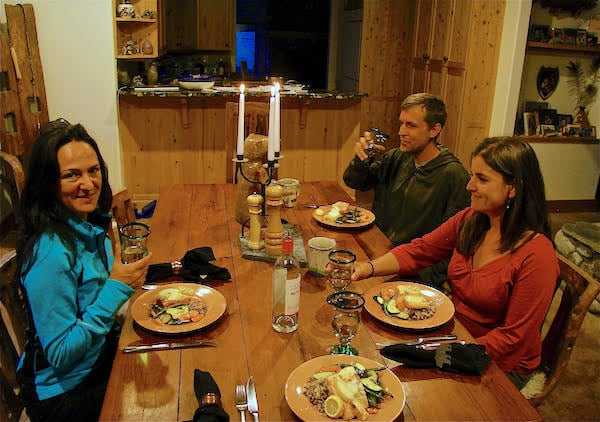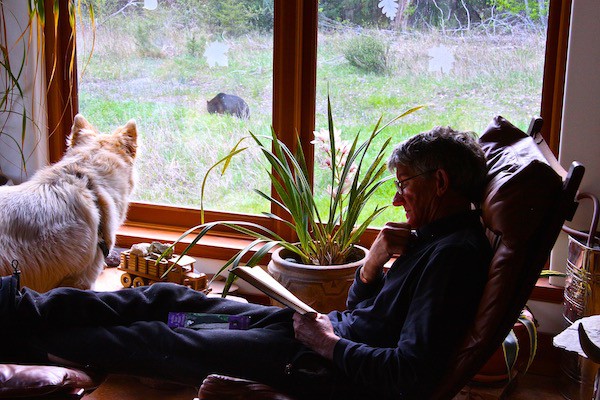 All-Inclusive Wilderness Retreat & Adventure Packages
Explore the Great Bear Rainforest, Relax in your private suite & Savour gourmet organic meals, made just for you.
Prices are per person (all-inclusive) & include:
Shuttle to & from Bella Coola Airport (if required)

Transportation/fuel costs for all excursions

Accommodation (2 private suites with 3 piece bath)

Gourmet meals prepared w/ local, fresh ingredients

Professionally Guided Bear Tours
(accredited members of the Commercial Bear Viewing Assoc. of B.C.)

Half day eco-rafting trip
(subject to availability &/or environmental conditions)

WiFi internet, housekeeping, laundry, & more.

5 Days / 4 Nights
Per Person
3 Days / 2 Nights
Per Person